Flex Builder – What do the Icons in Variables View mean?
Take a look at a typical Flex Debugging perspective Variables view.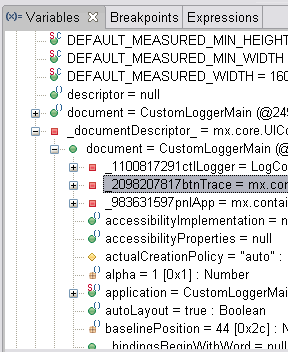 There is a lot of images with other symbols on top of them. From red squares, green circles to yellow diamonds with (), C, S etc… icons on top. What do they all mean? Well I am not totally sure myself, but some are obvious.

– Red Square
This defines a private variable.

– Green Circle
This defines a public variable.

– Yellow Diamond
This defines a protected variable.

– Orange Like Square Grid
This defines a ???? (any one know?) – it defines a package usually but this is used on attributes like x where y in the same object is set to a green circle, making no sense.
Ok now for the overlapping superscript icons.

– C icon
This defines a constant variable.
– D icon
This defines a dynamic variable.

– Red S icon
This defines a static variable.

– Getter icon
This defines that its has a getter.